Simple portfolio website for film director Matei-Alexandru Mocanu. Minimalistic video gallery, smooth navigation and transitions in between projects. WordPress theme development for an easy content administration.
MaM
Two-column grid with selected video thumbnails of the projects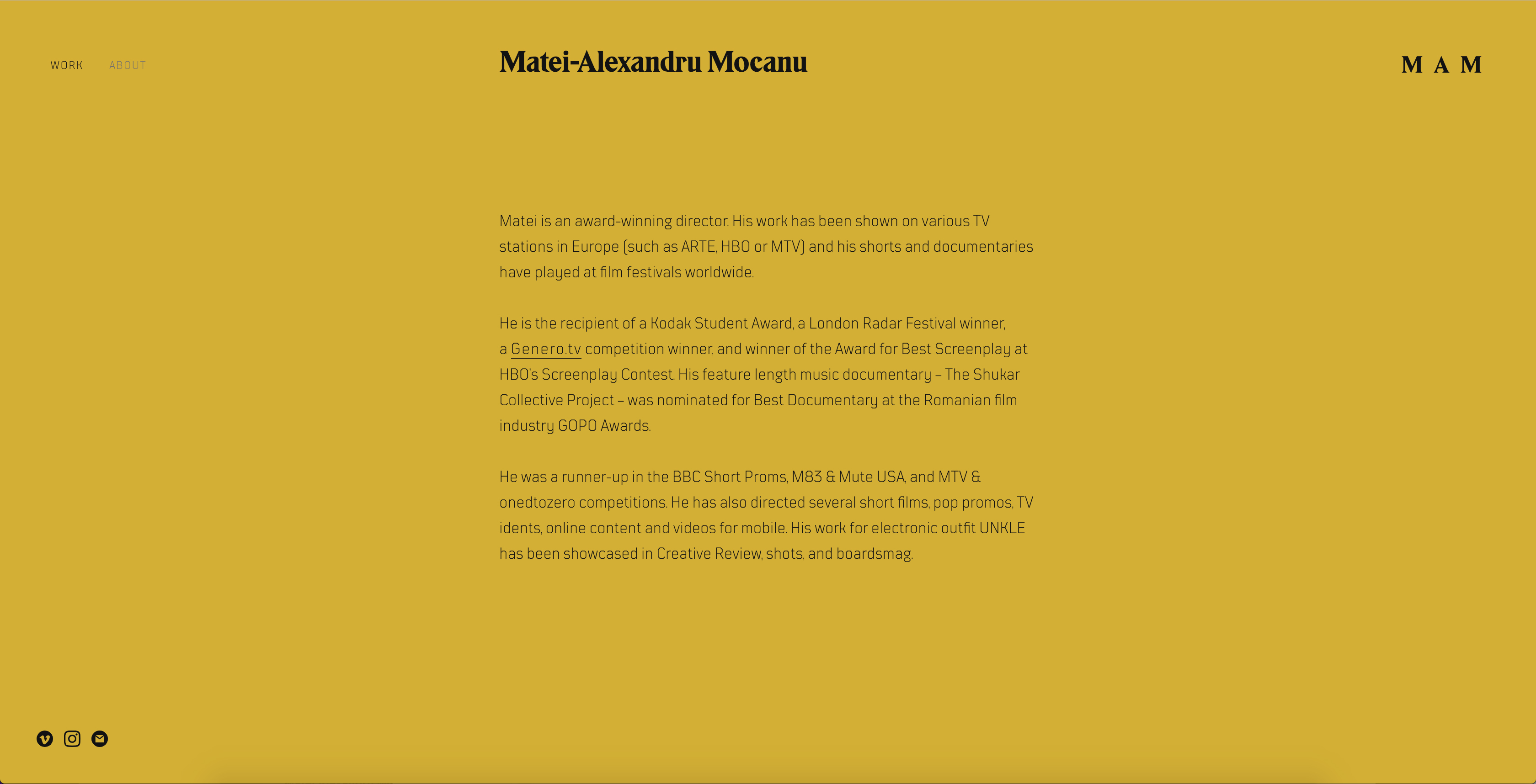 Each project opens in a lightbox – info feature and close cursor gesture
I'm a multi-disciplinary designer creating digital experiences and identities. My focus is to deliver distinctive work, aware of new and simple forms. I illustrate concepts through interactive and still images, helping clients to shape integrated solutions for their brands. Always aiming to craft elegant solutions and build websites pairing with your style. My strength as an all-rounder is to lead projects and turn your strategic thought into a well defined visual world. Using my experience of more than 10 years across music, apparel, arts & culture, I help brands finding beautiful ways of creating engaging content.
Previously I was a Senior Art Director in ad agencies, working in a fast paced rhythm in independent or multi-national environments. After that I became a freelancer and helped brands articulate their voices, guiding them towards new directions. I worked as a team of one or collaborating with other specialists – developers, copywriters, motion designers. With a rich photo/video expertise, I love art directing productions or even create my own assets. From research to execution, I can sketch ideas, make engaging presentations, prototype and follow projects to delivery. I can design your identity, work in a straight-forward way, finding efficient routes to craft your brand and build your website.
Some of my work has been featured on SiteInspire, Klikkentheke, Sites We Like, HoverStates, Httpster. Currently based in Amsterdam, I'm open for onsite or remote work. Would be great to hear from you, discussing the possibility of working together and see if we click. Say Hi – mircea@other.ro